Residence of Samuel D'Ippolito in Yucatán
Born in Belgium in 1984. Self-taught artist, Samuel D'Ippolito transforms, sculpts and organizes elements of his immediate environment. He fragments nature in order to merge it to technology, giving birth to hibrid contemporary reliefs. He creates immersive installations, giving visitors the opportunity to experience his art in their own way. 
With the goal of developing multi-sensory environmental spaces in order to provide ever more strong interactions between the visitor and the artwork, Samuel D'Ippolito likes to use a wide range of mediums and materials, as demonstrated by his recent research in Yucatán.
His work has been exhibited in Belgium, France and Italy. Exit of Residence is his first exhibition on the American continent.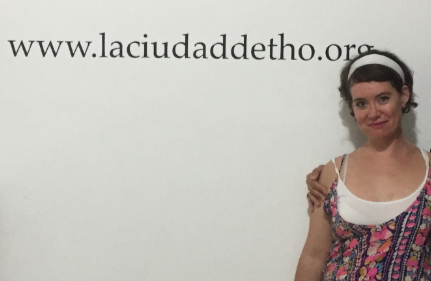 Residence of Paulina Denti in Yucatan
Born in Argentina, Paulina Denti made her residence at the facilities of La Cupula Cultural Center, with the support of the Superior School of Arts of Yucatan, ESAY, and the École européenne supérieure de l'image, ESID. The project that was born from his residence has been a sound installation: it presents a tour that begins in the La Cupula Cultural Center, narrated by her, guiding through some streets of the center of Mérida.
Residence of Anja Ronacher in Yucatán
The Austrian artist Anja Ronacher made a residency at the Cúpula Cultural Center from October 15, 2017 to January 15, 2018, with the support of the Higher School of Arts of Yucatan, ESAY. The objective of her residence is an archaeological investigation in Yucatan to produce photography.
Residence of Thibault Pellant in Yucatán
In an academic exchange between the Higher School of Arts of Yucatan, ESAY, and the French Institute of Latin America, Thibaulth Pellant took up residence at the Cultural Center la Cúpula facilities, from September 13 to December 13, 2017. As a result from his residence he exhibited two installations "LLANTAS, the show", the first in La Cúpula, in the framework of the White Night, and the second in the school of visual arts of the ESAY.
 Residence of Peter Kim in Yucatán
With the support of the Berg Foundation, the artist Peter Kim, South Korean, made his residence at La Cúpula Cultural Center from March 22 to April 20, 2017. He arrived in Mérida with the intention of focusing his residence on the similarities or differences between the Incas and Mayans. Until he discovered the story of the ship "Ilford", which arrived in Progreso in 1905 with 1033 Koreans on board.
Escaping from the Japanese invasion, they had spoken of Yucatan as a place of opportunity but everything turned out differently, they became slaves of hacendados. Peter was able to visualize and experience this situation with the contradictions in his work.
Crossed Art Residencies Pays de la Loire – Yucatán
In an exchange between the French region of Pays de la Loire and Yucatán, two Mexican artists, Omar Said Charruf and Emilio Suarez Trejo participated in an art residency in the French town of Carquefou. Their residency began on September 15th and lasted untill November 15, 2015. When their residency concluded, their work was showcased in an exhibition at the Contemporary Art Regional Fund which is based in Pays de la Loire.
From January 13 to March 13, 2016, two French artists, Raphaël Ilias and Julien Laforge were artists-in-residence at the Centro Cultural la Cúpula. The artworks they produced during their residency are currently on display at the Alliance Française gallery in Merida and are being curated by Leïla Voight.
At the same time, the aforementioned Mexican artists are presenting artworks inspired by their time in France at La Cúpula.
Japan Residency in Yucatán
Two Japanese artists inaugurated the residencies at Centro Cultural la Cúpula: plastic artist Kimiko Yoshida and pianist Tomoko Mukaiyama, with the support of the Japan Foundation in México and the Tomoko Mukaiyama Foundation.
Kimono Yoshida's work was exhibited at the opening exhibition at Centro Cultural la Cúpula and was made in the residencies' workshops.